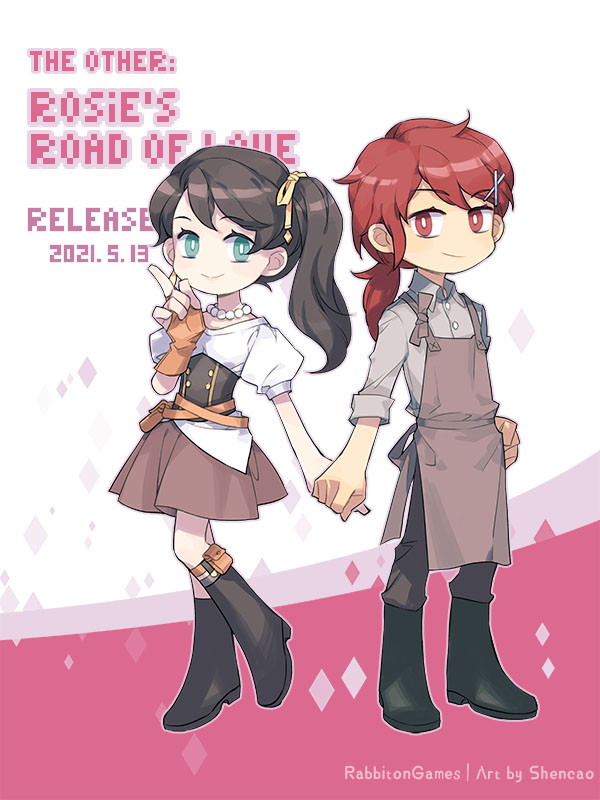 Art by Shencao
Hope you enjoy the game!
【Steam News | Steam新闻】
About RRoL's interaction with Airi's Adventure's savedataIf you have finished the True Ending of Airi's Adventure,
copy global.rpgsave and config.rpgsave in AA's local folder to RRoL's save folder,
then you can have the extra contents in your FIRST gameplay.
They're also available after clearing RRoL.
The extra contents (2nd Run or AA savedata) include:
1) Have extra 300 G (You probably know where it is from if you've played AA X'D)
2) Have some recipes, fishing notes and a Glass Rod.
3) Invite Jo as your party member.
The story happens after Lillian's party has saved world, so you'll see people talking about it…but no AA key spoiler is included in RRoL. Please enjoy it as a new journey~
It doesn't matter if you haven't played AA either. AA will be like a giant easter egg prequel after RRoL. Please play at your own pace!

Aaaaannd some exciting news!
1) The new official website is online now! Thanks to Vilja (who's also the programmer of T&TR)!
You can check all the news, game information, walkthroughs on the website, and more contents are planning to be updated.
2) A Popularity Vote!This is going to be the 3rd Popularity Vote, to celebrate RRoL's release and T&T's 5 year(!) anniversary. The 1st & 2nd results can be found in the news of the previous games' news.
* You don't have to play all the games to vote.
* End Date is to be announced, but at least it'll be the end of August. Please take your time playing!
3) Art Book making and Fan Art Event!An Art Book is also going to be made this time, in the following weeks.
Here we have the old fan art event again!
If there is anyone interested in submitting fan art for the Art Book now it's the time~
You'll recieve a copy for free if your art is included in the book!
It's not a contest (and properly not many submissions) so don't worry, just join if you're interested.
~ Read the detailed rules here ~
Thank you very much for your support! It's not easy for a small solo dev. I do appreciate it.
Please take care and have fun playing!

~ Official Website ~
For regular news and dev progress (and to support the dev):
Dev blog | Twitter | Patreon