2017-01-07
back to the project…
---
2017-01-09
Permission given to Goddialga to translate The Witches' Tea Party demo into Thai.
Thank you!
#;w;
---
2017-01-11
I don't like drawing T-shirts but _(:з」∠)_
#modern xaviera and mirabell
#crappy doodles
2017-01-11
I really wanna see John push his hair back…?
---
2017-01-13
The Witches Tea Party is greenlit!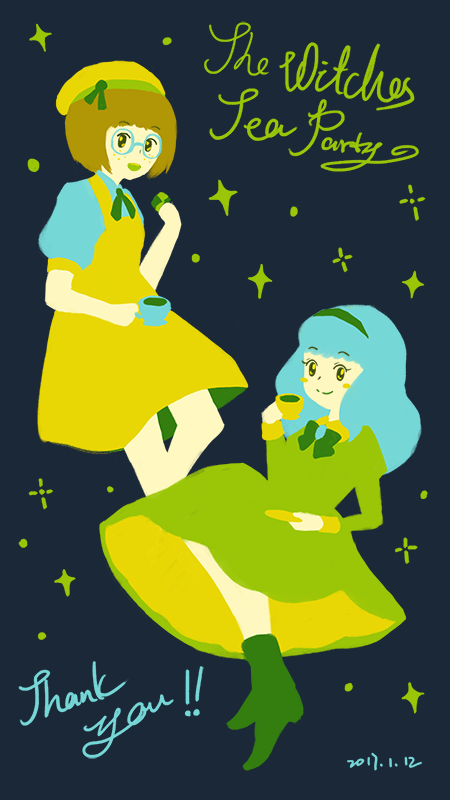 ---
2017-01-13
Progress report:
Chapter 1 (the deductive part of you-know-what) is basically finished. Just a lot of dialogues. I love the soundtracks they are really cool.
Chapter 1.5 (let's call it 1.5 because it's not really a thing) needs A LOT of art work.
Chapter 2′s gameplay hasn't been decided yet…
Chapter 3 is the part that I'm VERY looking forward to, which will be the traditional horror/puzzle style with blood splashes, probably some chasing >:D
It also means a LOT of art work, because of new stages and maps.
You probably don't want to stay in the house all the time, just walking around and talking to people…I'm so bad at making puzzles tbh. The game's pace is still very casual. I'm constantly worry that it's not exciting enough. (Also constantly have no confidence about everything)_(:з」∠)_
I'm now a bit stressed and distracted…and MV has terrible weird bugs, which is very frustrating. Sophia is away atm and I'm the only one working on the game so I decide to focus more on drawing and writing than making the game now.
THANK YOU!<3